2019-2020 Season Tickets Now on Sale!
Rick, our artistic director, has a fantastic season planned, and we're happy to offer three unique ticket package options this year. Just a small heads up, though for our past customers. We're using a new ticketing software this year. With this new software, you can now select your performance dates and seats rather than Choral Arts Ensemble selecting them for you. But you need to go into each concert, select your seats for that concert, and keep clicking Continue or Contin
Material is light but still a challenge
Just because something is light-hearted doesn't make it light. That's the lesson learned by Rick Kvam and his singers in Rochester's Choral Arts Ensemble as they prepare for concerts of humorous music this weekend in Rochester and Winona. "It's very challenging but fun," Kvam said, after describing several pieces in he program as "really hard." The concerts are collaborations with the Great River Shakespeare Festival of Winona. In addition to songs with a comic bent from Ch
Create Order in your Mind!
I've heard it said that listening to Baroque music (and especially Bach) naturally creates order in the mind. If that's the case, CAE singers should be thinking very clearly these days. Our first rehearsal with our artistic partner for this concert - Bach Society- in preparation for performing Bach's St. John Passion this weekend lasted over three hours but felt more like just a few minutes. We feel honored to be in partnership with Bach Society. This, our first collaboration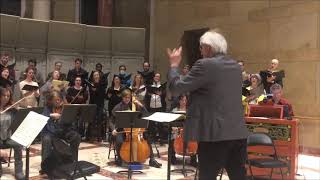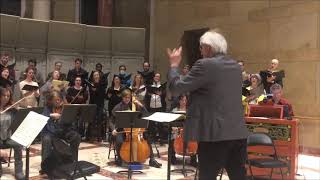 1st Meeting - CAE, Bach Society & Matthias Maute
It went very quickly from 'getting to know you', to 'getting it all together' at rehearsal last night in Lourdes Chapel. Everyone is excited to collaborate on Bach's St. John Passion along with soloists Anna Christofaro, Nerea Berraondo, Nicholas Chalmers, and Alan Dunbar this weekend!
This March, a wonderful variety of musical talents will team up, joyously, to present Johann Sebastian Bach's monumental St John Passion. It should be an exhilarating evening. First, we have our maestro, Matthias Maute, guiding the performance. Born in Germany and recognized internationally as a virtuoso recorder player, Matthias has settled in Montréal to teach and conduct, leading his Ensemble Caprice to many sparkling Baroque performances, including a Vivaldi recording t
Leipzig 1724 - the St. John Passion
This is Bach's fair copy score of the opening chorus of the St John Passion. In the dense 16th notes of the strings (center), one gets a visual sense of the dark, brooding unrest of the opening--g minor, aching dissonances in the oboes soaring over the swirling texture. Yet the text for this music will be "Lord, our Lord, how majestic is your name in all the earth!" (Psalm 8). Thus we see Bach's theological "take" on the passion story told by St John--there is a darkness, a
Stille Nacht celebrates 200 years
Sadly, the original Schifferkirche St. Nikola in Oberndorf, Austria near Salzburg had to be demolished due to heavy damage from several floods, but, in tribute to the Stille Nacht carol, a small chapel was built in its place. The Silent Night Memorial Chapel was built at the original location of the parish church between 1924 and 1936. In 1818--exactly two hundred years ago this December!--the young priest at that Schifferkirche St. Nikola, Joseph Mohr, wrote a poem for the
Being in a State of Thankfulness
Why is it that it's so easy to find things to complain and grumble about in our world today? The answers to that question are numerous and complex and are almost always void of any sense of thankfulness. As I reflect on the happiest times in my life, they almost always involve being in a state of thankfulness: for a loving life partner, for a good medical test result, for friends and family that warm a chilly world . . . the list could go on and on. At Choral Arts Ensemble,